OCCUPATIONAL THERAPY
What is Occupational Therapy?
Occupational Therapy is health care service concerned with an individuals ability to function in everyday life activities and occupations that provide meaning to the individual's life. Occupational Therapy is important when an individual's ability to participate in and / or perform these task (e.g self care, work, going to school, play, social interaction and living independently ) is affected or compromised by illness, disease, disability or disorder. ( mental, physical, social, emotional etc.)
Areas an Occupational Therapist treats
a.) SELF CARE
Grooming – combing hair, brushing teeth and nail care.
Bathing / Showering – soaping, rinsing and drying all body parts, sequencing body parts to wash (rhyme)
Dressing – Orientate clothing, shoes and socks, Right and left discrimination while dressing, back & front
discrimination while dressing, fastening and unfastening.
Feeding – Setting up food, selecting and using appropriate utensils and tableware, bringing food or drinking to mouth, swallowing.
Toileting – Toileting management, clothing management, cleaning body and caring for menstrual.
b.) WORK AND PRODUCTIVE ACTIVITIES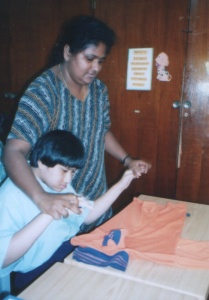 Home Management
Clothing Care – obtaining and using supplies, sorting and laundering. folding, ironing, storing.
Cleaning
Meal preparation / cleanup
Shopping
Money Management
c.) SENSORIMOTOR
– Sensory awareness
– Sensory processing
Tactile
Proprioceptive
Vestibular
Visual
Auditory
Gustatory
Olfactory
d.) FINE MOTOR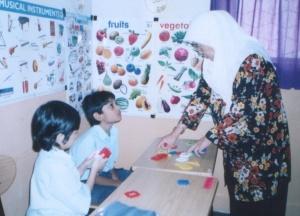 finger, hand strength, position & stability
pencil grip & control
wrist & or forearm control
copying shapes
fluency / finger movements
spatial organisation (space letter formation)
quality of work
visual perception skills
speed & dexterity
tweezers, scissors, finger isolated movements
e.) GROSS MOTOR
ball skills – throwing & catching, hitting ball
balance : hopping, balancing on one leg, walking on a balance beam, walking heel-toe.
clumsiness
awkward running or jumping
co-ordination of body sides, difficulty skipping, doing star jumps
difficulty with dancing
f) Cognitive Therapy (Color, Shape, Number Concept)
Orientation – Identifying person, place, time and situation
Recognition – Identifying familiar faces, objects
Attention span
Initiation of activity
Termination of activity
Memory
Sequencing – placing information, concepts and actions in order
Problem solving
Learning – Acquiring new concepts and behaviors
g) SOCIAL SKILLS
Role performances
Social conduct – Interacting using manners, personal space, eye contact, gestures, active listening
Interpersonal skills – Using verbal and non-verbal communication to interact in variety settings
Self Expression – Using a variety of styles and skills to express thoughts, feeling and needs
Self management
– Coping skills
-Time management
– Self control
Occupational Therapy services / treatment includes :
Early Sensory stimulation
Social Interaction and Communication training
Behavior Modification
Play therapy
Cognitive Stimulation
Activity of Daily Living
Motor Skills Training
Individual Therapy
Recreatioal Therapy
Group Therapy
Art Therapy
Relaxation Therapy
Special Education
Compression Therapy
Therapeutic Activity
Cognitive Assessment and Retraining
Perceptual Assessment and Retraining
Sensory Re-education
Aids and adaption
Activities of Daily Living Training